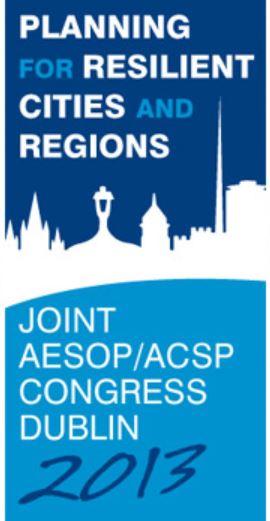 AESOP/ACSP Joint Congress 2013
Planning for Resilient Cities and Regions
July 15th -19th 2013
University College Dublin | Ireland
The 2013 Joint Congress hosted by AESOP and ACSP focused on resilience, a focal issue which has become a new banner for various societal and related planning efforts in cities and regions across the globe. These efforts generally aim to sustain the urban and rural viability and improve the quality of life for their residents amidst the global economic and socio-political crisis and climate change. The concept of resilience relates to the degree to which various environments and systems can tolerate changing conditions and circumstances before adapting and reorganizing around a new set of structures and processes. While the concept is sometimes understood only as resilience to climate change and geo-environmental hazards, the Congress proposes its utility to planning and development be explored in broader terms – as an approach to the multifaceted nature of local and global challenges. In fact, one may consider the ability to adapt and change as an indicator of resilience.
Metropolitan Institute Director and SPIA Director of Research, Joe Schilling participated in the TRACK 12: Planning for Urban Regions in Transition, Growth and Shrinkage
Schilling was a panelist in Shrinking Cities: international perspectives and policy implications and a presenter in two additional sessions.
Session 14: Opportunities for Regenerating Shrinking Cities:
"Blending Regeneration and Sustainability: Comparative Policy and Planning Lessons from Philadelphia and Liverpool"
Joseph Schilling, Director, Metropolitan Institute, and Shannon Lawrence, Sustainability Advisor, Metropolitan Institute
Presentation available as PDF
Session 16: Post-Industrial and Brownfield (re) Development
"Resilient Urban Regeneration: Situating the Manchester Case"
Joseph Schilling and Margaret Cowell (Assistant Professor, Virginia Tech, SPIA – UAP)
Presentation available as PDF