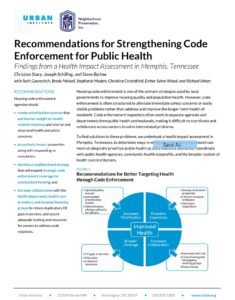 Where we live matters for our health and wellbeing. The physical conditions of our homes and neighborhoods affects everything from our respiratory and behavior health to our obesity, physical safety, and mental health. Research documents how substandard homes and apartments can increase the risk of lead exposure and toxicity, exacerbate respiratory diseases such as asthma resulting from poor indoor air quality, and increase the risk of injuries resulting from unsafe housing conditions. It can also adversely affect the health of other residents living and working in the neighborhood. Crime and economic disinvestment associated with high concentrations of substandard housing and neighborhood blight can negatively impact mental health outcomes, may contribute to chronic stress among residents, and may create significant barriers to adopting healthy lifestyle behaviors such as healthy eating and physical activity.
Local government housing code enforcement (HCE) programs are one of the most common interventions for addressing substandard housing and neighborhood decline. HCE involves the inspection, investigation, and enforcement of state and local housing codes. As the first responders to substandard, blighted properties, HCE inspectors can take a range of  legal and administrative actions that can encourage or require property owners and managers to  bring their properties and homes up to code. However, most housing and community development policies and programs seek to improve conditions, markets, and neighborhoods without focusing on the health impacts of their actions.
To establish stronger policy linkages between housing and health, our  Interdisciplinary Research Leaders Team undertook a two year health impact assessment (HIA) in Memphis, Tennessee, that examined ways the city's HCE could strategically prioritize public health as a key outcome and better coordinate with public health agencies, community health  nonprofits and the broader system of health care institutions.
Memphis ranks high on socio-economic  indicators of  distress as  many Memphis residents live at or below the poverty line. Memphis also has a substantial problem with substandard housing and vacant, blighted properties and is undergoing a major transformation of its housing code enforcement and blight-fighting efforts with the release and endorsement of the nation's first neighborhood blight elimination charter.
Our findings and recommendations from the full HIA report and fact sheet include:
Housing code enforcement in Memphis could help address serious health issues if it focuses on more structural building violations, expands services to address health issues such as mold and bed bugs, and adopts more proactive inspection processes.
Health impact assessments (HIA) can be a great vehicle for cross sector organizations and stakeholders to collaboratively identify challenges and potential solutions to local inter-agency collaboration and code enforcement coordination.
Strong, community-based intermediaries are critical to the success of such cross sector collaborations.
Additional reflections and observations about our work in Memphis can be found in the January 2019 article, Bridging the Housing and Health Policy Divide: Lessons in Community Development From Memphis and Baltimore found in the journal Housing Policy Debate.