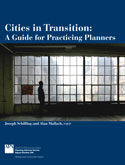 Published by the American Planning Association (APA) in 2012, the Cities in Transition  (PAS 568): A Guide for Practicing Planners co-authored by Joe Schilling and Alan Mallach  provides authoritative and practical guidance on how to design, develop, and implement  place-based strategies for revitalizing declining communities. The PAS Report represents  the accumulation of nearly ten years of field and policy work with local planners, elected  officials, economic and community developers, neighborhood activists, researchers,  students, and designers.  It highlights a range of innovative practices from pioneering  communities such as Detroit, Cleveland, and Flint, and includes interviews with leading  community members, academics, and practitioners.
This page serves as an opportunity to share the background research and full participant  interviews that have been collected by Professor Schilling leading up to and for the  PAS Report, but were not able to be included in full detail are provided here.
Practitioner Interviews
As part of the research and writing for much of this work, many of the insights gathered came from a series of practitioner interviews with the purpose of enhancing and amplifying the menu of outlined strategies. Below is a list of participants, their final interview and biography.
Robert (Bob) Brown, City of Cleveland, Cleveland, OH
Charles Bartsch, U.S. Environmental Protection Agency, Washington, D.C.
Christina Kelly, Genesee County Land Bank Authority, Flint, MI
Michael Clarke and Anthony Armstrong, Buffalo Office of Local Initiative Support Corps, Buffalo, NY
John Gower and Tony Kroeger, City of Dayton, Dayton, OH
Deeohn Ferris, Sustainable Communities Network, Washington, D.C.
Don Chen, Ford Foundation, NYC, NY
Kaid Benfield, Natural Resources Defense Fund, Washington, D.C.
Dan Kildee, Center for Community Progress, Washington, D.C.
Bobbi Reichtell, Neighborhood Progress, Inc., Cleveland, OH
Frank Ford, Neighborhood Progress, Inc., Cleveland, OH
Ian Beniston and Phil Kidd, Youngstown Neighborhood Development Corporation and Mahoning Valley Organizing Collaborative, Youngstown, OH
Samina Raja, University of Buffalo, Buffalo, NY
Teresa Brice, Phoenix Office of Local Initiatives Support Corporation, Phoenix, AZ
Derek Horn, Planning and Development Assistant Director, City of Phoenix, Phoenix, AZ
Kate Krietor and Jesse Garcia, Community Development Deputy Director and Project Manager, Neighborhood Services Department, City of Phoenix, Phoenix, AZ
Additional Resources
APA's Shrinking Cities Bibliography