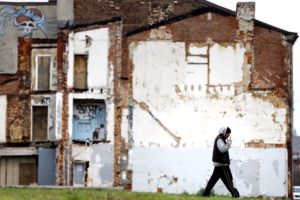 A man walks through a vacant lot where the impression on a demolished home remains on a standing building, Monday, Dec. 28, 2015, in the Northern Liberties neighborhood of Philadelphia. (AP Photo/Matt Rourke)
Where we live, perhaps more than our genetic code can often determine our short-and long-term health outcomes. Studies have shown that the physical conditions within our residences and the surrounding neighborhood along with the cost burdens of housing can directly affect our health. Substandard housing can expose occupants and visitors to poor indoor air quality, mold, lead, and infestations which can lead to or exacerbate asthma and other respiratory illnesses, lead poisoning, learning and other behavioral problems. Vacant properties and abandoned buildings can become catalysts for crime, neighborhood decline, infestations that trigger disease, along with stress, trauma and decreases in social capital.
Building on its national literature review on blight,  the VPR Network launched a series of activities to explore the public health impacts and influence from vacant properties and the interventions that communities deploy to prevent and abate them:
Our goal is to help policymakers and practitioners understand the latest research and assess the public health impacts of their neighborhood revitalization, housing and community development programs, perhaps even help improve them by documenting  how changes to housing and the built environment can improve the public health of residents and neighborhoods.