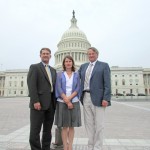 On Wednesday, July 31st, Director Schilling participated in a panel at a Congressional educational briefing, "From Vacant Lots to Vegetable Plots: Converting Brownfields to Urban Wealth." The briefing, co-sponsored by the House of Representatives Urban Caucus and American Society of Agronomy (ASA), Crop Science Society of America (CSSA), and Soil Science Society of America (SSSA), presented the benefits of converting some of the approximately 450,000 brownfield sites (abandoned or underused spaces whose redevelopment may be complicated by real or perceived environmental contamination) into verdant fruit and vegetable gardens, through Urban Agriculture (the practice of cultivating, processing and distributing of food in or around a village, city or town.
During his presentation, Schilling noted that "a growing number of nonprofits are reclaiming vacant lots and brownfields with locally grown foods and forests as part of a new urban agriculture movement." Through recent research on the Groundwork USA network of 19 community-based intermediaries, the Institute identified several barriers that make the greening of brownfields difficult. "With all of the nationwide activity on urban agriculture and urban greening, there is a huge need for bringing together these local innovators and thought leaders to share lessons learned and perhaps develop a common agenda for policy action."
Joining Director Schilling on the panel were: Art McCabe, Manager, Community Development Department, City of Lawrence, MA; and Anne Palmer, Program Director, Food Communities and Public Health, Johns Hopkins Center for a Livable Future, Bloomberg School of Public Health. Each of the panelists discussed the "greening" of the brownfields to provide social, health, and economic benefits for the community.
Information on the briefing can be found here.