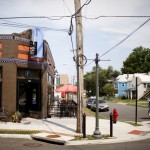 Roanoke, once the thriving rail hub, would now be considered a medium sized legacy in terms of the Cities in Transition (CiT) typology (Cities in Transition: Guide for Practicing Planners, 2012). Experiencing both a decline in jobs and population from its peaks in the 1980's it has seen challenges to it's social and human capital, continues to struggle with weak market conditions, witnessed deterioration and change to the built environment and gone through internal changes affecting the cities ability to address these challenges.
Bruce Katz, vice president of the Brookings Institution, points out that nothing particular new or earth shattering is involved with local "vanguard developers and entrepreneurs spotting a trend, contributing their own resources and collaborating with other like minded individuals."  Placemaking efforts as a economic strategy whether privately or publicly lead and initiated are common and done contextually throughout the U.S. and world. However, never underestimate, what hard work, a little profit motive, ties to a community or place, and the ability to offset against 'said' risks involved, will do for sparking real change.
Mr. Walker's redevelopment efforts and community commitment to Roanoke are a great example of an old lesson, that's been played out many times over in history. The best way to remember such lessons is to read about real life stories, such as Roanoke's: "Virginia Developer Is on a Mission to Revive his Town" (New York Times).
For more information on this year's CityWorks(x)po in Roanoke in October 18-20, 2012.