Research
Showcasing articles and reports by Metropolitan Institute professors and staff and Network Contributors along with the latest policy research from the emerging fields of vacant property reclamation and urban regeneration.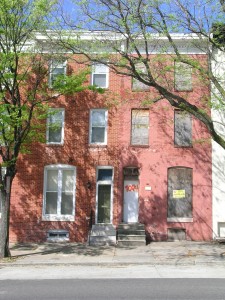 Publications 
American Planning Association Cities in Transition PAS Report (CiT PAS): Professor Schilling will serve as the co-author with national expert Allan Mallach for a practitioner guide on how to design, develop, and implement place-based strategies for revitalizing declining communities undergoing serious loses of population, jobs, and businesses, often known as Shrinking Cities or more recently Cities in Transition.  The American Planning Association (APA) will publish this guide as a Planner Advisory Service (PAS) Report (publication slated for April 2012).  PAS Reports provide authoritative guidance on current planning issues and innovative practices to approximately 1,200 planning departments and consultant firms across the country.  With planners in many of these cities searching for strategies and tools to address the complex dimensions of community and neighborhood decline, this PAS Report will highlight a range of innovative practices from pioneering communities such as Detroit, Cleveland, and Flint.  The PAS Report will also include articles by and interviews with leading community members, academics, and practitioners. The hope is that this report will prove to be a useful and practical guide to planners in cities in transition and shrinking cities.
Case Studies
Philadelphia's Vacant Property Journey  is one of three conducted by Virginia Tech's Vacant Property Research Network (VPRN), with support from the Ford Foundation, to document resilient approaches to reclaim vacant properties in three cities: Philadelphia, Cleveland, and Baltimore. These studies identify policy reforms and program innovations to reclaim vacant properties, discuss each city's capacity and networks for adapting to ever-shifting vacant property problems, and offer recommendations for improving and sustaining each city's more resilient approach to urban regeneration. By synthesizing the strategies and initiatives across these three pioneering cities, the case studies bring to life the elements of a holistic policy process that can assist practitioners, policymakers, and researchers in the design and development of a more resilient system for reclaiming vacant properties and regenerating distressed communities. Click here to read.
Vacant Properties Model Practices Case Studies (Model Practices): The Metropolitan Institute will also publish case studies on innovative policies and programs that cities have effectively used to prevent, reclaim, and reuse vacant properties.  The case studies will highlight pioneering vacant property practices, such as housing courts, land banks, registration ordinances, and urban greening initiatives that any community can learn from and adapt to meet local conditions.  The primary audiences are the foot soldiers of the vacant property reclamation movement as well as state and local policymakers.  By evaluating the vacant property activities of three to four cities, these case studies will collectively provide a comprehensive framework for addresses that negative impacts of vacant and abandoned properties on neighborhoods and cities.
Conferences & Conventions
Research Agenda for Cities in Transition (September 2010): The Metropolitan Institute brought together more than 50 national experts and policy advocates for a one-day research roundtable to "identify the top research priorities that would support HUD and the Federal Interagency Partnership for Sustainable Communities as they develop and implement policies and programs that promote more sustainable communities." In light of Virginia Tech's expertise and HUD's policy and programmatic domains, three areas were selected as special breakout groups for the roundtable: 1) Accessible and Affordable Housing; 2) Green and Energy Efficient Affordable Housing; and 3) Cities in Transition. MI staff designed and facilitated the CiT session that involved 15 leading researchers and experts. An excerpt from the final report identifies the research priorities from the cities in transition working group and a preliminary list of vacant property reclamation issues (see Appendix). The report also contains some intriguing recommendations for the Interagency Partnership in revamping federal research programs. In February 2011 MI released the final report to invitees and briefed members of the Federal Interagency Partnership for Sustainable Communities in April 2011. For the next nine months MI will continue to promote the event, especially the cities in transition research recommendations with policymakers and practitioners. More importantly, as part of its virtual research inventory, MI will monitor current research that responds to these and other challenges confronting cities in transition.
Columbia University Shrinking City Symposium (September 2010): The Herbert H. Lehman Center for American History brought together about 75 researchers and practitioners for their two day symposium, "Shrinking Cities, Smaller Cities: Modern Crisis or New Path to Prosperity? Is smaller really better?" The symposium was led by noted historian Kenneth T. Jackson and shrinking city scholar Robert Beauregard along with presentations by practitioners and researchers from St. Louis, Buffalo, Cleveland, and Detroit. By participating in the symposium, MI was able to expand its network of researchers, connect them to the virtual research inventory, and identify potential research issues of relevance for practitioners.
American Assembly on Legacy Cities (April 2011): The Metropolitan Institute participated in the prestigious 110th American Assembly, focusing on the plight of cities with rich historical heritages and valuable resources but that have long histories of severe population loss. The goal was to build stronger policy frameworks and coalitions to assist these communities. Eighty participants from the United States and Europe met from April 14-17 in Detroit, Michigan in structured discussions on the challenges facing "legacy cities" and the barriers in repairing them. The Assembly's final report includes recommendations that use market-driven development strategies to focus on the strongest neighborhoods while employing land banks in more economically challenged areas. Participating in the American Assembly was critical to expanding MI's virtual research network and populating the research inventory with a wealth of new research.
Sustainability Policy
Sustainability Planning and Shrinking Cities (Summer 2012): Professor Schilling and Raksha Vasudevan have  co-authored a chapter titled The Promise of Sustainability Planning in the Regeneration of Shrinking Cities which has been accepted for publication (summer 2012) by the University of Pennsylvania Press as part of a book, The City After Abandonment, edited by Professors Margaret Dewar and June Manning Thomas from the University of Michigan. In this chapter they apply the content analysis tool to the comprehensive sustainability plans and policy plans of four shrinking cities, Baltimore, Buffalo, Cleveland, and Philadelphia.
Graduate Sustainability Planning Studio and other related research (ongoing): A major area of emphasis for MI's research explores the emerging intersection of sustainability and the potential for older industrial cities to adopt green policies and plans. More information about this work can be found on the Sustainability Policy subtab.
Copyright 2012 – Metropolitan Institute